Nanomechanics and Small-Scale Plasticity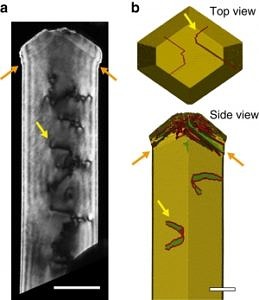 Dislocations nucleated during the compression of a <110> oriented Au nanowire,
from S. Lee, J. Im, Y. Yoo, E. Bitzek, D. Kiener, G. Richter, B. Kim, S. H. Oh [2014],
Reversible cyclic deformation mechanism of gold nanowires by twinning–detwinning
transition evidenced from in situ TEM, Nat. Commun. 5 3033 Link to paper
The mechanical properties of metal structures change dramatically when their characteristic length scale is of the order of micrometers of below. Nanosized metallic wires, pillars, particles or thin films show for example an increased yield stress (the so-called "smaller is stronger" effect), and changes in their elastic response compared to their bulk counterparts.
In this project we use atomistic simulations to study the fundamental deformation mechanisms of metallic nanostructures. The results are directly used to interpret the experiments performed at our institute.
We are part of the international CNRS research network MECANO focused on the "Mechanics of Nano-objects", and the Graduate Research School GRK1896.
The movie shows the deformation mechanisms during bending and subsequent load removal of a [110] oriented Cu Nanowire.
Related Publications: