Modellierung & Simulation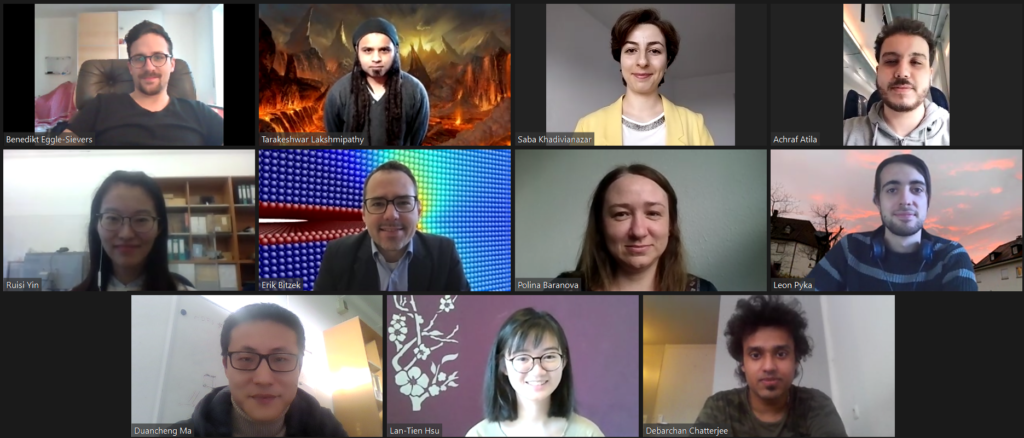 Die Materialmodellierungsgruppe unter der Leitung von Prof. Erik Bitzek erforscht die elementaren Defekte des kristallinen Gitters (Versetzungen, Risse, Grenzflächen, Leerstellen) und wie die Ordnung und Wechselwirkung dieser Defekte die mechanischen Eigenschaften von metallischen Werkstoffen beeinflussen. Die Arbeit der Gruppe umfasst zudem die Modellierung der mechanischen Eigenschaften von amorphen Systemen, wie Siliziumdioxid und metallischen Gläsern. In jedem der genannten Aufgabenfeldern werden atomistische Simulationen und Dichte-Funktional-Rechnungen angewendet, um detaillierte Informationen über Defekteigenschaften und Mechanismen zu erhalten, die zu Verformung und Versagen führen.
Der Forschungsschwerpunkt liegt darin, sowohl qualitative Einblicke als auch quantitative Informationen über die Deformationsprozesse auf der atomaren Skala zu erhalten. Diese Erkenntnisse helfen nicht nur dabei experimentelle Ergebnisse besser zu verstehen und zu interpretieren, sondern auch bei der Entwicklung robuster und zuverlässiger Modelle zur Vorhersage des Verformungsverhaltens von Materialien. Erkenntnisse aus atomistischen Simulationen werden in der Gruppe genutzt, um Multiskalenmodelle wie Kristallplastizitätsgerüste mit der Finite-Elemente-Methode (FEM) und der Fast-Fourier-Transformations-Methode (FFT) zu entwickeln. Diese Modelle überbrücken verschiedene Längenskalen und erleichtern die Simulation komplexer Umformprozesse.
Die Materialmodellierungsgruppe arbeitet eng mit dem Institut für Werkstoffsimulation (WW8) bei der Multiskalenmodellierung und mit dem Computer Chemistry Center (CCC) in Bezug auf die Dichtefunktionalrechnungen zusammen. Sie ist außerdem Teil des Exzellenzclusters Engineering of Advanced Materials (EAM) und des Zentralinstituts für Wissenschaftliches Rechnen (ZISC).
Andere Beteiligungen der Forschungsgruppe sind der Sonderforschungsbereich SFB/Transregio 103 "From Atoms to Turbine Blades", das Schwerpunktprogramm SPP1594 "Topological Engineering of Ultrastrong Glasses" und "SPP1466 Life" sowie am Graduiertenkolleg 1869 "In-Situ Microscopy with Electrons, X-rays and Scanning Probes". Darüber hinaus partizipiert die Gruppe am EU-Projekt iSTRESS und am Forschungsnetzwerk "Mechanics of Nano-objects MECANO". Erik Bitzek wurde außerdem kürzlich mit einem ERC Consolidator Grant für sein Projekt "Microscopic Origins of Fracture Toughness" (microKIc) ausgezeichnet.