Plastic deformation and failure of nanostructured metals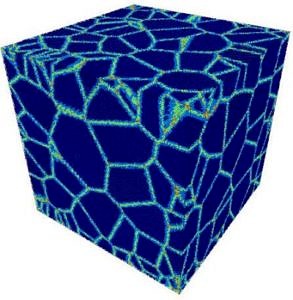 Topological network of a 107 grain polycrystal of nanostructured aluminum.
Atoms are colored according to the topological entity that they belong to –
dark blue atoms signify grain interior, light blue and green atoms denote grain boundaries,
yellow atoms form triple junctions and red atoms form quadruple points (A. Prakash)
Nanocrystalline materials are characterized by typical grain sizes below 100 nm. These materials exhibit strengths up to ten times higher than that of conventional polycrystalline materials, whilst most of them simultaneously show a significant decrease in ductility.
A detailed understanding of the deformation and failure mechanisms is imperative to controlling and tailoring the mechanical properties of this new class of materials. Here, atomistic simulations provide a unique way to study the dislocation and grain boundary processes involved in plastic deformation.
In this project, we aim to study the influence of the grain boundary network topology on the deformation behavior and on collective processes. The statistical analysis of the individual slip events provides important quantitative information for continuum and mesoscale models of nanocrystal plasticity like quantized crystal plasticity (QCP).